In order to promote a love of reading in the classroom, each classroom book area at Enfield Heights offers children a selection of texts aimed to both inspire and motivate reading.
Reading books on display in each classroom book corner are updated and replenished regularly to ensure we offer a range of books related to current learning. 
Reading Spine
Our Enfield Heights reading spine is used to promote a love of reading through class story times. We have a list of core story time texts for each year group to be enjoyed during regular, timetabled story time sessions. We aim to include a diverse range of texts set in the UK and around the world, that reflect our diverse and unique Heights community.
In order to share what each class is reading, all classes proudly display the title of their current class reading book on their door.
You can find out more about our reading spine here.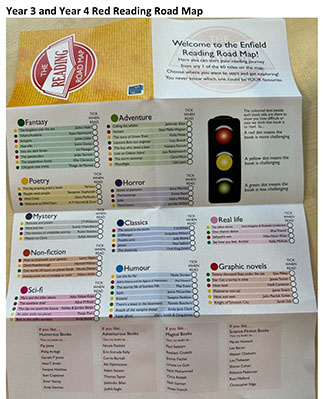 Reading Road Map

Reading Road Map is aimed at broadening the children's reading horizons. It is allows children to explore different books, authors and share recommendations with their peers. All the titles on each map (other than the Classics genre) have been published within the last 12 months, and no author has more than 1 title per map.
How can it be used?
•Each book title also has a coloured dot to signify how challenging each book is. The challenging level key is explained on the map each child will receive to bring to and from home. 
•Once a child has read a book, they can get it ticked off on their checklist by an adult at school. 
•When children have read five books a bronze award will be awarded, ten books a silver certificate and twenty books children will be presented with a gold certificate. Once children have read more than twenty plus books, children will be awarded a special achievement certificate and a prize by the headteacher.
World Book Day
At Enfield Heights Academy, we love celebrating World Book day, giving the children the opportunity to dress up as their favourite book character and share their love of books. We also join in with other initiatives throughout the year related to reading and books - our aim will always encourage children to be hooked by books!