Helping your children at home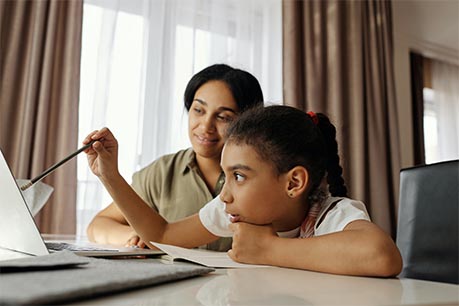 Learning Resources for Parents and Carers
As a parent or carer, you play a vital role in your child's education. Whether your child is in school or learning at home, there are many ways you can support their learning and development.

Tips for Supporting Learning at Home
Create a designated learning space. Set up a quiet and comfortable area where your child can focus on their studies.

Establish a routine. Having a regular schedule for learning and other activities can help your child stay on track and manage their time more effectively.

Get involved. Take an active interest in your child's education by asking them about their schoolwork, helping them with projects, and praising their efforts.

Provide resources and materials. Make sure your child has access to the tools they need to succeed, such as books, educational software, and other resources.

Encourage independence. As your child grows older, give them more responsibility for their own learning. This can help them develop important skills like problem-solving, critical thinking, and self-motivation.

Support their interests. Help your child discover and pursue their passions by encouraging them to explore new subjects, join clubs and groups, and pursue hobbies and other activities.

Communicate with teachers. Stay in touch with your child's teachers to stay informed about their progress and to work together to support their learning.

Be positive. Encourage your child and let them know that you believe in them. A positive attitude can go a long way in helping your child succeed.

Remember, every child is different and what works for one may not work for another. Be patient and keep trying new strategies until you find what works best for your child.A

Resources to help you
To help you in your journey of supporting your child's education, we have gathered a list of some useful resources that you can refer to. The resources are helpful tools that can support your child's learning and development. These resources cover a wide range of subjects and age groups, and we will be updating them regularly.  Feel free to explore these resources and use them to support your child's learning at home.

Maths
KS1 Maths workshop information. View it here. KS1 Ideas for parents for maths activities at home here.
Y3-4 Maths workshop information. View it here.  Y5-6 Maths workshop information. View it here. 
Our YouTube video resources
Maths activities at home for KS1 parents
The importance of helping your child with maths at home