Enfield Heights Art Nights!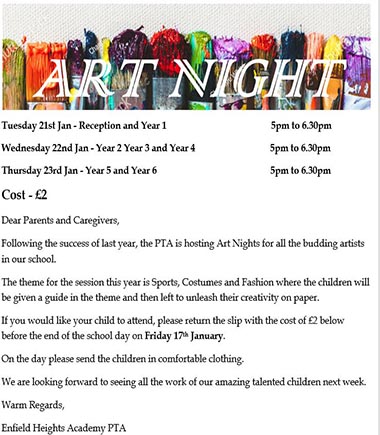 Following the success of last year, the PTA is hosting Art Nights for all the budding artists in our school.

Tuesday 21st January - Reception and Year 1 5pm to 6.30pm
Wednesday 22nd January - Year 2 Year 3 and Year 4 5pm to 6.30pm
Thursday 23rd January - Year 5 and Year 6 5pm to 6.30pm
Cost - £2
The theme for the session this year is Sports, Costumes and Fashion where the children will be given a guide in the theme and then left to unleash their creativity on paper.
A letter will come home in your childs book bag this week. Please sign slip and return payment to the office before the end of the school day on Friday 17th January.