Welcome to the blog for all or schools.
We will be inviting a range of different people to write for us on educational issues.

Its 'take over' day at Heron Hall

We asked two of our students to give us their thoughts on student take over day.
A group of 10 students shadowed members of the school's senior leadership team on Friday. They took part in meetings, delivered briefings and helped with a whole range of other tasks, from lesson planning to being 'on duty' at break times. The students were selected from membership of the school council and on the number of merits they have achieved.
My Experience as Headteacher of Heron Hall Academy – by Mikhala.
PERIOD 1
My day as the head teacher so far has been fun - even though I was late to my staff briefing!
So this morning I had to get everyone ready to go period one. Straight after that I had to get the year 11s lined up and ready to do their exam.
 
I went around with Mr Barzey making sure all the classes where working hard and silent. We also went into a lesson with a cover teacher. Unfortunately, we had to tell off a pupil for being rude to this teacher. I suggested to Mr Barzey that we should give her a blue slip. The pupil had to write a statement of what happened.
In my new role, we carried on walking around… popping into different classes. In the computer room there was another cover teacher (who is a very good cover teacher), I had to give one year7 a blue slip for hiding under the table.
PERIOD 2
At the being of period 2, I had to stand in the corridors and make sure people get to the lesson without pushing or shouting in the corridors. I had to give out another two blue slips to two Year 8 pupils because they were behaving in a bad way on the staircase.
Next up, I went with Mr Barzey to collect and take down the money from Children in Need day to the school office.
BREAK
I had to watch the year 7 & 8 line to make sure everyone was against the wall. Then I walked around the playground making sure everything was ok outside. I got to blow the whistle to let everyone know that break was over it time to go to 3rd period. Then it was all the way up to the top floor to make sure everyone was going to their lessons and not messing around.
PERIOD 3
In period 3 I typed up the SLT agenda for Monday 26th November 2018. After I finished this task I went around looking for all the SLT members, asking them if there was anything they would like to add to the agenda. As Period 3 finished, I was back in the corridors making sure everyone was behaving.

PERIOD 4
Next I had to update the agenda to add all the ideas the SLT had given me. Then I went round making sure that everyone was engaged with their lessons.

LUNCH
I was on lunch time duty so I rushed down stairs and waited for the students to come… Year 11 arrives first, then a couple minutes later the rest of the school comes down to get their food. I tell the Year 8 & 9s to get into a straight line so I can let them in.
After that I went outside to make sure everyone was on their best behaviour - which they were. Then I went into the canteen and to tell everyone that lunch is over. My next task was to clean up the canteen, before heading off to make sure that no one was in the corridors.

PERIOD 5
For period 5 I went around checking class rooms and helping Mr Davis, our deputy head teacher.
Then I went to Madam Walters' class room to check if she was ok. Unfortunately, I had to give out 3 more detentions to boys who got sent out of their cover lesson. Then I went back onto the corridors to make sure everyone got to period 6 on time.

PERIOD 6
I was able to do my math work and I also helped Mr Davis print things for the offices.
I went up on the stage for the year 7 assembly - where they welcomed me with love and care!

END OF THE DAY
Today has been such a great day!

It has taught me a lot of responsibility and has given me a chance to finally realise what I want to be when I get older and has push me to be the best I can be.
Thank you Mr Barzey for allowing me to have this experience with you!
Reflections on the day - by Nehir Temur
I had fun today as I learnt the different aspects of teaching.

In the morning I was doing the register for the Year 11 exam in the morning.

After that it was free period, so I was planning a Year 7 science lesson by making worksheets.

I then went for break duty to the canteen, before finishing planning the science lesson.

In period 4 I went to science and began 'teaching'.

During lunch I went along to the canteen and ate my lunch. Then I went outside to make sure students were not throwing their rubbish on the floor (littering).

Today was a fun experience as I got to have "power" for a whole day and I was taught a teacher's 'day in a life'.

Overall it was a nice experience. However, it was very tiring.





Jane Lewis, Head of UK Programme Development and Quality for Save The Children UK

I was recently lucky enough to work with a lovely school in North London to deliver one of our parental engagement programmes. Families and Schools Together (FAST) is all about helping children to succeed: at home, in school and in their community. It's a structured programme, developed in the US, and based on very sound theory.  We've been delivering it since 2010, in partnership with Middlesex University, along with our own home-grown parent engagement programme, Families Connect. And they work!

RICH REWARDS
Evaluations show that both programmes are very successful, increasing parents' involvement in their child's education and learning; enriching family relationships; improving children's behaviour at school and at home, and boosting children's academic skills. And over the past few weeks it's been an absolute pleasure to see this for myself.
"THE FAST PROGRAMME HAS EMPOWERED OUR PARENTS AND BREAKS THE BARRIERS THEY HAVE, CREATING A PARTNERSHIP BETWEEN FAMILIES AND SCHOOLS." JULIET, Community Outreach team

 
At the end of the eight sessions, there's a graduation ceremony where the families celebrate what they've learnt. Ours was incredibly moving. Parents testified that they were continuing the activities at home and making a point of having one-to-one time with their children. They talked about tuning into their child, following their lead, giving them praise and getting them to talk about their feelings. They saw the value of structure, routine and repetition and were creating more of this at home. They talked about feeling less isolated and now having friends at school. We haven't had the results of the formal evaluation yet but this is the kind of change we hope to see.
ALL PARENTS WANT THE BEST
One of the values underpinning FAST and Families Connect is the idea that all parents want the best for their children. We chewed this one over when we had our initial training, looking at all the reasons why parents might not come across as having this aspiration. It's very common to hear schools, and other parents, saying that some parents can't be bothered, don't care, never do anything to support their child's learning, and have very low aspirations.

Actually, in all the years I've worked in child and family services, I can honestly say I've never met a parent who doesn't want the best for their child. I've met parents who are so depressed that they struggle to find the energy and motivation to give their children the stimulation they need. I've met parents who were never read to, played with, sung to or even really talked to by their own parents, and who don't do enough of these things with their children. I've met parents who are completely intimidated by schools, not because of anything the school is doing, but because they're isolated, unconfident and afraid of anyone in authority. And I've met parents who had a terrible time at school themselves and want to protect their children from the same experience, and who might do this by saying that tests and exams don't matter, or that the teacher doesn't know best.
But none of that is the same as not wanting the best for your child.

 'THE BEST THING ABOUT THIS EXPERIENCE IS I'VE GOT TO TALK TO PEOPLE FROM SO MANY DIFFERENT CULTURES AND DESPITE ALL OF OUR DIFFERENCES, EVERY ONE OF US PARENTS, FROM EVERY COUNTRY, WE JUST WANT TO MAKE OUR CHILDREN HAPPY." KATE, MUM OF TWO
BREAKING DOWN BARRIERS
This is why programmes such as FAST and Families Connect are so valuable – little by little, they help break down those barriers whilst providing parents with confidence and a support network. At the end of the programme, the school partners said that parents who previously had stood back at the school gate were coming into the school, asking questions, getting involved, and some were asking for more help from the school.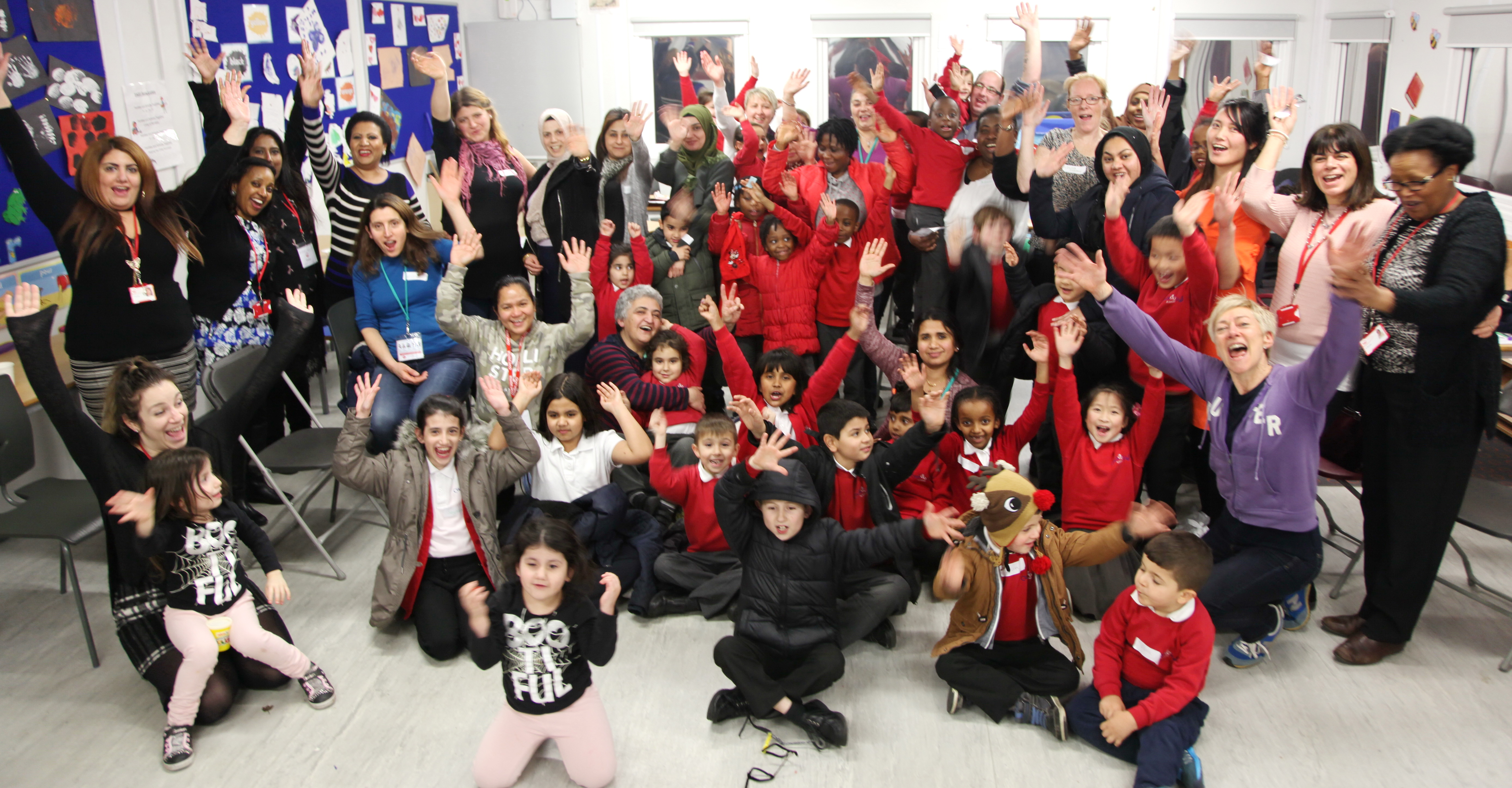 Hearing feedback like this and seeing the changes for myself made me incredibly proud of the work we're doing and of our conviction that it matters. And it made me eager to continue our work with Families Connect and to build on it to embed parental engagement in schools. If we can succeed in that, we can help parents and schools to have a transformative impact on their children's futures, and ensure that no child is left behind.
 
Save the Children is co-funding a randomised controlled trial of FAST with the Educational Endowment Foundation, which is being carried out by the National Foundation for Educational Research and Loughborough University. We are also planning a randomised controlled trial of Families Connect.